Take Full Advantage Of The 90 Day Guarantee & Turn Your Purchase Into A Risk-Free Trial.
SBI! 1.0 SBI! 2.0 SBI! 3.0
Since the time SBI! 1.0 was first launched (2001), its value-bundle has delivered unmatched business building strength. The "visitor power" milestone of Content 2.0 took SBI! e-businesses to whole new levels (SBI! 2.0). Now, the next-generation BlockBuilder 2 ushers you into a new era in SBI! success...
SBI! 3.0
How much do these milestone upgrades cost? They cost millions of dollars to develop and are worth thousands of dollars in time, traffic and productivity.

Despite that, the 3.0 milestone has the same price increase as 2.0, the same price as all the other software upgrades and additions, and the same as all the continuous, as-needed, process/information updates...
Free. Like everything else in SBI!, all you need is included in your subscription.
Every Successful SBI! Owner Started
Where You Are Right Now
Tens of thousands of profitable e-businesses have started right here, on this Order Page. But even the highest earning SBI! owners ("SBIers") originally wondered if they could possibly build a profitable e-business. All have wondered if SBI! was right for them...
"I can remember wondering if I could do it. Were all those successful SBI! owners super-smart? Techies? Now, at 4,300 visitors per day, SBI! is growing my e-business faster than ever. I learned you don't need to be a techie or genius. Just bring BAM, like all SBIers."
How can you be sure? Do what they did. Don't wait. It's simple to be 100% sure, right now...
Use the 90 Day Money-Back "Confidence of Success" Guarantee to turn a "purchase" into a risk-free trial...
Do the step-by-step process.
Work with the actual tools.
Experience our one-on-one 24x7 SiteSell Support.
Interact with thousands of other SBIers in the world's best e-business forums.
A 90-Day Guarantee?
Why 90 days? Because it takes more than a week or a month to decide if you're right for SBI! and if it's right for you. After all, you are building a business, not just a blog. This is life-impacting.
We have seen thousands upon thousands of people take SBI! and succeed. So we have great confidence in SBI!, and in you. That is why we let you use SBI! for 90 days, completely at our risk.
When you have enough time to fully use SBI!, you really make progress on your e-business (again, at our risk!). We guarantee that you will utter what so many others have exclaimed...
"I'm Home!"
Soon after starting with SBI!, owners tell us those two special words. They feel the missing piece to the online business puzzle fall perfectly into place. They are home.
Some had previously made a mistake and lost a year of their lives elsewhere on traffic-less sites or on blogging. They wasted more than time. They spent thousands of dollars on e-books, membership sites, videos and tools after being told, "all you need is free/cheap hosting."
Then they turned to SBI!.
And that is when they realized that SBI! delivers more than what they had hoped. The depth of the experience can only be fully grasped when you commit and "just do it."
What You Get With Your Order...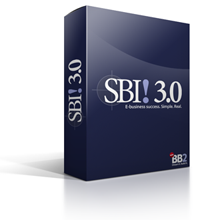 Complete Step By Step Videos Detailing the Proven Process
24 Hour SiteSell Support
Access to Private SBI! Forums
Genuine, Long-Term E-Business Success
The Video Action Guide leads you step by step through the process. The SBI! tools eliminate all the difficult or technical barriers. So you focus on your business. Everything is tightly integrated into one complete system of process, tools, and support, all for one low price...
What Does SBI! Cost?
What should it cost? Consider 3 ways to value SBI!...

Financial Analysis -- Figure the replacement dollar value, the accountant's view.
Business Considerations -- What is a successful business worth? Put a value on a stream of hundreds, then thousands of new lifetime customers (how to measure the value of one lifetime customer). Multiply that by several new streams of income.


Opportunity Cost -- What is it worth not to lose a year of life and thousands of desperate dollars on "premium packages," wondering why your site still fails?
Based on all that SBI! delivers (and prevents!), a subscription to SBI! should sell for many thousands of dollars per year. You pay less than a tenth of that... USD $299 (currency converter). And... see SBI! 's recession-busting $29.99 monthly payment option.
Build Your Own E-Business
For Less Than $1 Per Day, Plus BAM
All you need is (1) knowledge about something, (2) positive attitude, and (3) motivation. We call those qualities BAM... "Brain, Attitude, Motivation." For those with BAM, the road ahead is clear. You will understand how and why SBI! delivers what it promises... your best chance at e-business success. Nothing is left to chance...
The Action Guide leads you cleanly through the C T P M process.
The integrated, tech-free tools empower you to skillfully execute the process.
The help-and-be-helped SBI! Forums have an irresistible "can-do" culture. Thousands of motivated, positive small business people gather to lend each other helping hands.
Round-the-clock, free, caring SiteSell Support is always there for you.
"BAM" without SBI! is not enough. SBI! eliminates all of the barriers that stop even the most motivated (ex., technical barriers, Search Engine mastery, etc.). You progress steadily because you focus on your business, not barriers.
Don't Lose Another Day
The 90 Day Money-Back "Confidence of Success" Guarantee takes all the risk off you and puts it on us, where it belongs. Your only risk lies in not starting SBI! today.
Every day that passes is a day lost from owning a Top 1-3% site. Visualize yourself with a profitable, long-term and evergrowing e-business that is yours.
Commit to that vision and make it happen. Make SBI! your home...
Fill In The Order Form Below
Within minutes, you'll be well on your way to Building A Business.
The 90 Day Money-back "Confidence of Success" Guarantee turns your purchase into a risk-free trial.
Prefer to Place Your Order Offline?